Colloquia Journal of Central European History Volume XIII, No 1-2, 2006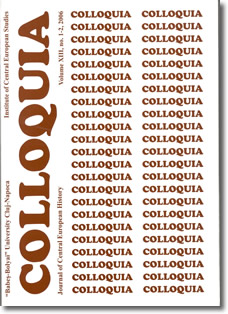 Contents
Articles
A. Politics, Society and Material Culture in Medieval and Early Modern Transylvania and Banat
Attila Zsoldos, 'The Siege of Codlea'.
Géza Hegyi, 'Rodna and the Rodna valley in the Middle Ages (1241-1469/1475): History of a dominion and a settlement'.
Mária Lupescu Makó, 'Material Culture in the Mirror of the Testaments. The Art of the Home in Cluj in the First Half of the Sixteenth Century'.
Doru Radosav, 'Beyond Ethnic Boundaries: The Culture of Banat in the Seventeenth and Eighteenth Century and the European "Republic of Letters"'.
Gábor Sipos, 'The Life of the Protestant Intelligentsia in Transylvania in the Seventeenth Eighteenth Centuries'.
B. Frontiers. Borders, Limits: Politics, Material Culture ands Symbolic Meaning
Jeffrey Pennington, 'End of the Line? Border Changes and Railroad Geography between the Alföld and Carpathians'.
Hannah Marshall, 'Rebuilding the Past and Creating the Future in Bosnia-Herzegovina: Reconstructing Religious Buildings in Post-war Mostar'.
Ştefan Ghenciulescu, 'Frontiers and Habitation: The Case of Bucharest'.
Discussion
A Discussion with Robert Wistrich, initiated by Maria Ghitta: "We often talk glibly about learning the lessons of the past".
View Points
Henry Pillsbury, 'How can someone be Romanian? Notes of an American Tourist, 1971'.
Source Book
Ioan-Aurel Pop, 'The Expedition of the Sultan in 1538 in Moldavia (in the view of an Italian author)'.
Tamás Fejér and Anikó Szász, 'The so-called Libri Regii: Protocols of the Transylvanian Princes'.
Zsolt Bogdándi and Emőke Gálfi, 'The Alba Iulia Chapter of Authentication after Secularization.
Ioan Drăgan, 'Zsigmond Jakó - A Report on the Archives of Oradea in 1949'.
Profile Zsigmond Jakó
András Kubinyi, 'Zsigmond Jakó, The Scholar of History'.
Interview with Zsigmoind Jakó, initiated by Mária Lupescu Makó.
In honorem Zsigmond Jakó
In Memoriam
Daniela Mârza, 'In memoriam Gheorghe Platon'
Robert Nagy, 'In memoriam András Magyari'