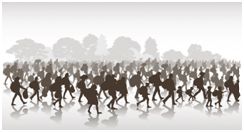 ABOUT
The seventh edition of the international conference Migration Dynamics and New Trends in European (In)Security, within the Jean Monnet Module Building EU's Societal Security: The security management of national minorities in Europe, Together4Europe, will cover two separate, but interconnected topics: on one hand, the migration issues, involving topics related to societal security, identity(ies), minority issues, migration and refugees and on the other hand security studies. Case studies focusing on European Union member states, the Balkans, the Caucasus, USA and Mexico, migrants from the Middle East, South Asia and Africa are welcome.
The event was successfully launched in 2013 in the frame of the Jean Monnet Life Long Learning Programme. Since 2013, the Migration conference series established itself as a visible academic event for the field of international relations and security studies.
During the three-day conference, keynotes, experts, professors, researchers, PhD candidates, postdoctoral fellows, civil society activists, consultants, policy advocates and many more will exchange their views on conference topics.
President of the International Conference: Prof. Adrian Liviu IVAN, PhD, Module Leader.
PANELS
Panel 1. Intelligence and Governance for sustainable migration policies
This panel is designed to address the main issues and challenges related to international security and it integrates specific approaches of governance and intelligence. Our goal is to identify, analyse and discuss the current trends related to security governance and use of intelligence in dealing with the main threats and vulnerabilities, especially in the current international context which is fragile and unforeseeable. An important emphasis is placed on international/regional cooperation, collaborative/collective governance, intelligence sharing and mutual trust, from a practical perspective, in order to help better understanding the security climate and the possible trends.
Panel 2. Migration - (In)Security Nexus: International Migration and Security
The securitisation/desecuritisation of migration is nothing new, but in the new international context, these issues became a priority. This panel is meant to underline aspects of the migration-(in)security nexus, emphasizing some of the ways in which indicators such as linguistic, cultural and religious diversity, economy, political affiliation or public discourses can influence immigrants and their further integration or segregation. Last, but not least, it aims to address the negative consequences of extremist anti-immigration groups, who perceive immigration as a threat to national sovereignty while trying to secure their borders.
Panel 3. Citizenship, Identity and Social Challenges
This panel focuses on the geopolitics of migration, the challenges posed by the large number of immigrants and refugees in Europe and the failure of multiculturalism in different EU member states. In this context, we can also bring to the fore media's role in the securitization process and the debate between national identity and the European citizenship. This panel also underlines aspects of the labor market integration and social inclusion.
Submission and Registration Fees
Conference fee:
Early bird registration (up to April, 12th): 150 Lei (30 Euro)
Student registration (up to April, 26th): 150 Lei (30 Euro)
Regular registration (up to April, 26th): 190 Lei (40 euro)
The fee covers the conference package, meals and publication of the paper. Registration is effective after full receipt of payment. The submitter must be (one of) the presenting author(s). All future correspondence will in fact be sent to the submitter. The final deadline for paying the participation fee is April, 26th, 2020. Please attach in an e-mail message to MigrationConference2019@gmail.com a scanned proof of payment.

Social programme:

To complement the event, we will organize a social programme that offers history, culture, hospitality and gastronomy in original surroundings. Entertainment for participants will be part of the programme, including an icebreaker reception, a conference evening with a networking dinner, a Cluj history tour and many more surprises. Since Cluj-Napoca has a lot to offer, we will make sure you will not regret coming to this magnificent city.

Publication:

The articles will be evaluated by a scientific committee of the conference. The presented papers will benefit from publication either in:
The Conference Proceedings Volume 2020 "Migration Dynamics and New Trends in European (In)Security"
The Research and Science Today Journal, indexed in numerous international databases (ERHI+) (in English, French and German), more details at: www.rstjournal.com.
Contact:

If you have any questions, please do not hesitate to contact the organising committee at MigrationConference2019@gmail.com.
Contact person: Lect.Claudia Anamaria Iov, PhD. claudia.iov@ubbcluj.ro

Review the Call for Papers in .pdf format here.

Dear Beneficiars and Colleagues,

I know this is a very stressful time for you and your families.

More and more events and large group gatherings across the country are being limited or canceled, we have travel constraints and school/university closings in an attempt to slow the spread of Coronavirus (COVID-19).

In this context, I have made the difficult decision to postponeour next activity, planned for May, 07th-09th, 2020, the International Conference on Migration Dynamics and New Trends in European (In)Security, Seventh Edition, Cluj-Napoca. As COVID-19 continues to spread and international travel becomes more and more challenging by the day, we are acting now to safeguard our well-being and prevent difficult situations.

I deeply appreciate your understanding! For information on our next events please check our website!

Best wishes,

Prof.Univ. Adrian Liviu Ivan,PhD.

Module Leader